Weapons Boxes, Debris and Paper Tiger
Datum
Instalation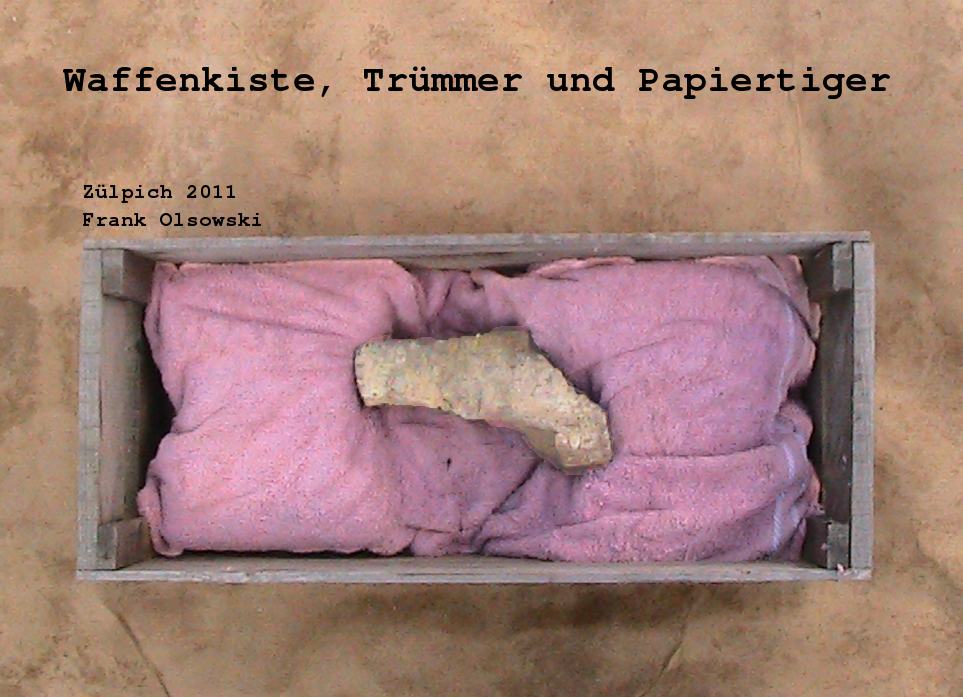 Gemeinschaftsausstellung Sommernachtsraum 2011
An instalation between two birch trees, exhibited at the Summer Night Room Gillenbeuren 2011, deepest Eifel. The Summer Night Room is held once a year by the artist Dorothea Kirch and her friends "Gang Gillenbeuren" over a weekend in Gillenbeuren, a village in the Eifel.
A large origami paper tiger made of epoxy-coated raw cardboard floats between 3 birch trees above a debris of compressed and crumpled raw cardboard of the same material on a pedestal,
In front of the picture CageCode souvenir from Lent. Surrounding this arrangement are four wooden crates on as many pedestals from which oily black paint oozes. In each of the boxes lie on epoxy resin cushions a handgun roughly beaten out of brick.

The entire ensemble was arranged as the king's position of a chess game, with the weapon boxes representing the pawns and protecting the rubble as the king piece, which has a paper tiger hovering over it as a crown. The ensemble is concluded with the Picture CageCodes Souvenir in the background.
Kamera-in Film von 2011
---